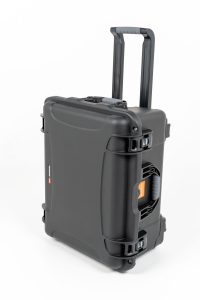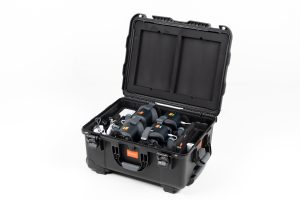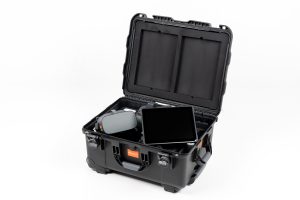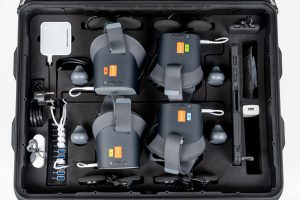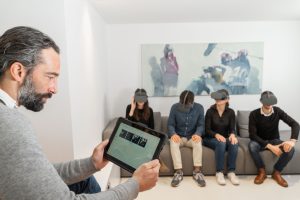 The VR4Uniiits is a multi-user VR case that is easy to use and ideal for virtual reality training, events, communication… and all other uses where it is necessary to be able to follow the immersed users and to control the broadcasting of the contents with ease.
Whether you are a trainer, a teacher, a communication manager, a presenter… Virtual reality offers you an infinite field of possibilities to transmit knowledge, entertain or communicate with a large audience.
Today, one of the easiest ways to broadcast virtual reality experiences are stand-alone headsets. But implementing them, launching applications or making sure that everything works well on the user's side can be a headache, especially when it comes to managing multiple users simultaneously.
VR4Uniiits is the answer to these problems.
The multi-user VR case
VR4Uniiits embeds 4 wireless virtual reality headsets Pico G2 4K, for immersive sessions with several users simultaneously or individually.
Centralized management of VR360 content
The software embedded on the tablet allows you to initialize the session, launch immersive content on one or more headsets, synchronized or not. You can also view them in real time from the tablet to ensure that the experience is going well.
Stand-alone virtual reality sessions
Launch your immersive sessions wherever you are, thanks to the embedded mobile access point, without the need to connect to a private network or the Internet, or even to an electrical outlet. Indeed, once all the equipment is charged, the solution allows you to be completely autonomous for more than 1 hour
The VR Case for mobile virtual reality
The compact size and the lightness of our VR case allow you to travel easily with VR4Uniiits, whatever your mode of travel, and to deploy the solution in a few minutes only.
VR4Uniiits, VR case for virtual reality training, events or communication.
Technical information
Contents
A Windows tablet with charger and centralized management software for immersive sessions
Pico G2 4K VR headsets (x4)
Controllers (x4)
Headsets (x4)
Wi-Fi router (x1)
USB Hub (x1)
Powerbank (x1)
Battery charger (x1) and rechargeable batteries (x12)
A set of antibacterial wipes
Software features
Add 1 to 4 headsets.
Launch different contents on each headset.
Launch identical contents on several headsets simultaneously.
Pause experiments individually or collectively.
View or hide the experiences of each headset in real time.
Manage your media library.
Technical features
Supported media: 360° videos or .apk
Transport: water and shock resistant wheeled case with carrying handles.
Dimensions: 57.9 x 46.5 x 29.7 cm (L x W x H).
Total weight: about 10 kg.
Autonomy: about 1 hour (if not powered).
Power supply: requires a 220V electrical outlet for the charging of operated devices batteries or to power the router.
Software license: perpetual license.
Hardware and software support warranty: 1 year.
3 rue Raymond Lavigne , BORDEAUX, FRANCE 33100