New dates to be announced | Paris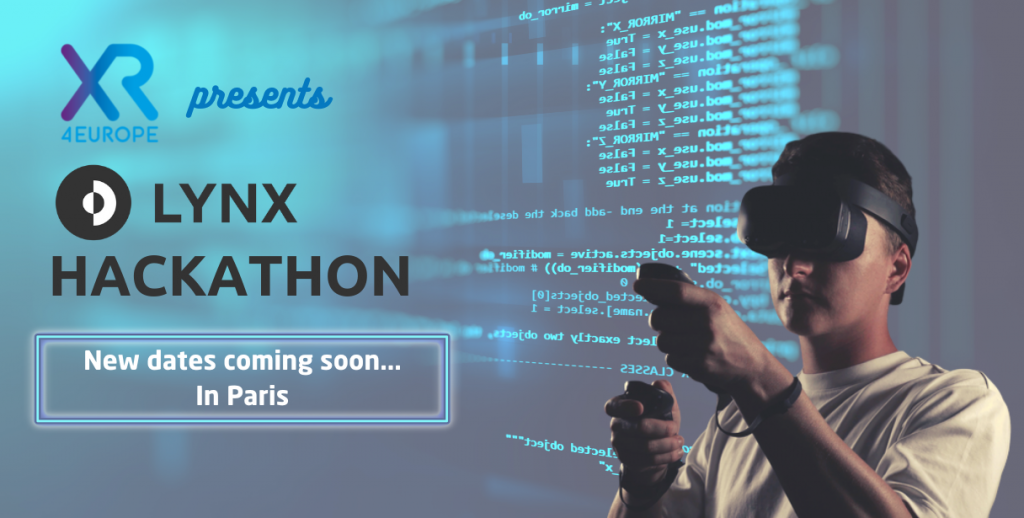 XR4EUROPE presents the LYNX Hackathon
XR4EUROPE is proud to partner with Lynx, France Immersive Learning and LINCC to bring its support to the development of the application library of the Lynx R-1 mixed reality headset. To ensure the best possible experience for the teams, we're convening all XR creatives and developers for an exclusive on-site Hackathon in the Paris&Co office at Le Cargo on new dates (still to be announced).
Why join the Hackathon?
⇉ To celebrate the European XR startup's journey and the production launch of the Lynx R-1 headset, a mixed reality headset that has the peculiarity of being the first standalone headset heavily focused on offering both VR and colour passthrough MR. 
⇉ To build upon the Lynx R-1 endless technological possibilities and develop fun and creative content.

Where & When? 
The two-step hackathon will include (1) a training session at the France Immersive Learning Lab in Paris 13ème (available on live stream and for replay), and (2) the launch of full-speed development , at Le Cargo in Paris 19ème. New dates remain to be announced. Stay tuned!
For whom?
We're calling all European XR devs to mark their calendar & bring their skills to the table! The venue will allow participants to make the most of the experience, thanks to spaces dedicated to relaxation & sleep, as well as shower facilities. 
Best applications will receive a special prize..!
Teams wishing to participate will be able to register soon, stay tuned!
Lynx : One standalone MR device, endless possibilities
Founded by Stan Larroque in 2019, Lynx is a French company based in Paris with an international reach. The founder and his team of 15 innovators in electronics, software, optics and hardware, developed the Lynx-R1 headset with a view to leveraging the potential of MR capabilities. With their interdisciplinary backgrounds and professional experiences, they form a unique team to offer a disruptive headset that combines several layers of technological advances, for use cases spanning across education to professional training and games & entertainment.
The Lynx-R1 headset will enhance users' experience from the individual consumer to professional teams, in an unprecedented manner, fostering immersiveness for improved learning outcomes and interactivity in the real world and all virtual ones.
New date announcement soon